International trade shows: A busy spring schedule for Lacroix
The LACROIX teams will have to deploy multiple talents in order to attend all 4 events at various locations around the world at once: DIMDEX (Qatar), DSA (Malaysia), SAS (USA) and FIDAE (Chile).


An opportunity for LACROIX Defense to promote its self-protection solutions and services.
Our scope of activities covers all stages. From product design to manufacturing, including procurement, support and service (training and simulations) solutions.
Our team will particularly focus on interacting with you about:
Our Naval SOLUTIONS: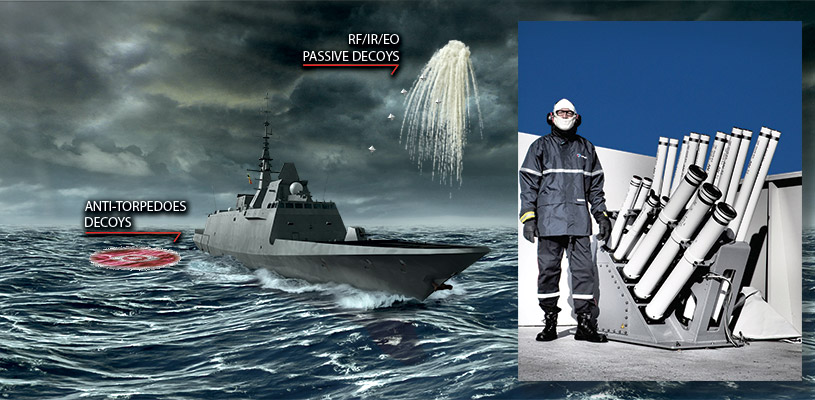 We will be promoting our compact, state-of-the-art SYLENA MK2 decoy launching system, which has been a big hit at several naval shows in recent years.
Our team will also be delighted to discuss other naval solutions (SYLENA LW, MK 1.) to meet your operational needs, and to present our solutions and effects designed to protect all types of ships (OPV, patrol boats, corvettes, frigates, fast attack, etc.).
LACROIX provides innovative and unique decoy solutions, including advanced AAW and ASW pyrotechnic applications. Technologies currently deployed :
Corner reflector (CNR)
Infrared
Smoke bombs and grenades
Electro-acoustics



A real-life prototype will be presented at the World Defense Show and DIMDEX
Our range of LAND self-protection - GALIX AOS:

Our team will be at your disposal to discuss the self-protection of vehicles with our self-protection solution on land, GALIX AOS, A&N.
Our integrated 360-degree protection system: from detection to reaction to protect armored vehicles of all types: small vehicles, light armored vehicles, battle tanks (Leclerc), T-72, BMP-3, BMP-1, AMV, APC, LAV, etc.
GALIX was designed by LACROIX Defense and is part of the leading solutions equipping vehicles worldwide and in France, it has been developed and optimized to react quickly and efficiently to any threat. The system can be combined with an acoustic and laser detector for optimal detection of direct threats in the "repost" mode.
Coupled with the PILAR V of Metravib, the GALIX A&N (Acoustics & Navigation) offers an immediate reaction while providing an operational recommendation by GPS guidance. Fully compatible with acoustic and laser detectors.
Our AIR countermeasures :

At each of these shows, LACROIX will present its self-protection solutions equipped with the latest technologies (MTV, spectral, dual, kinematic).
We will be promoting our cutting-edge solutions. Our countermeasure systems are currently deployed on many military platforms (Rafale, Mirage, Tiger, NH90, A400 M, etc.)
Our team will be entirely dedicated to discussing other airborne solutions (combat training, flares, etc.).
Our wide range of Airborne countermeasure solutions is available in all types of sizes:
For fighter aircraft (F-16, F-18, MIG, Mirage, Rafale, etc.)
For Helicopters (Apache, Black Hawk, H225M Caracal, NH-90, CH-47 Chinook, Tiger, etc.)
For large transport aircraft (Hercules, Airbus A400M, etc.)
LACROIX also offers specific training solutions (tracking flares, practice bombs, etc.)
Services offer by LACROIX Defense:
LACROIX continues to develop its services and operational support solutions for customers.
The upcoming trade shows will be a unique opportunity to present our ammunition management offer and its many benefits: storage reduction, life cycle optimization and budget management.
Through the implementation of various solutions ranging from training to maintenance, LACROIX wishes to demonstrate its commitment to becoming a valued partner to its customers, by providing complete operational support in response to their constraints and needs.
Meet our team on the French Pavilions